SentriLock is thrilled to offer a variety of learning opportunities for each of their technology solutions. Find the best learning option for you below.
Real Estate Sales Power at Your Fingertips
SentriLock offers the first and only combined electronic Lockbox, Showing Service, and Experience Management solution.
It's the industry's most secure and reliable electronic lockbox system, with flexible temporary access, access by appointment, and jaw-dropping customer support.
It's stronger, more reliable, and smarter than an other electronic lockbox - so you can securely and conveniently access homes while creating great home showing experiences.
SentriKey accounts can be obtained electronically by sending an email to Katie@GallatinRealtors.com.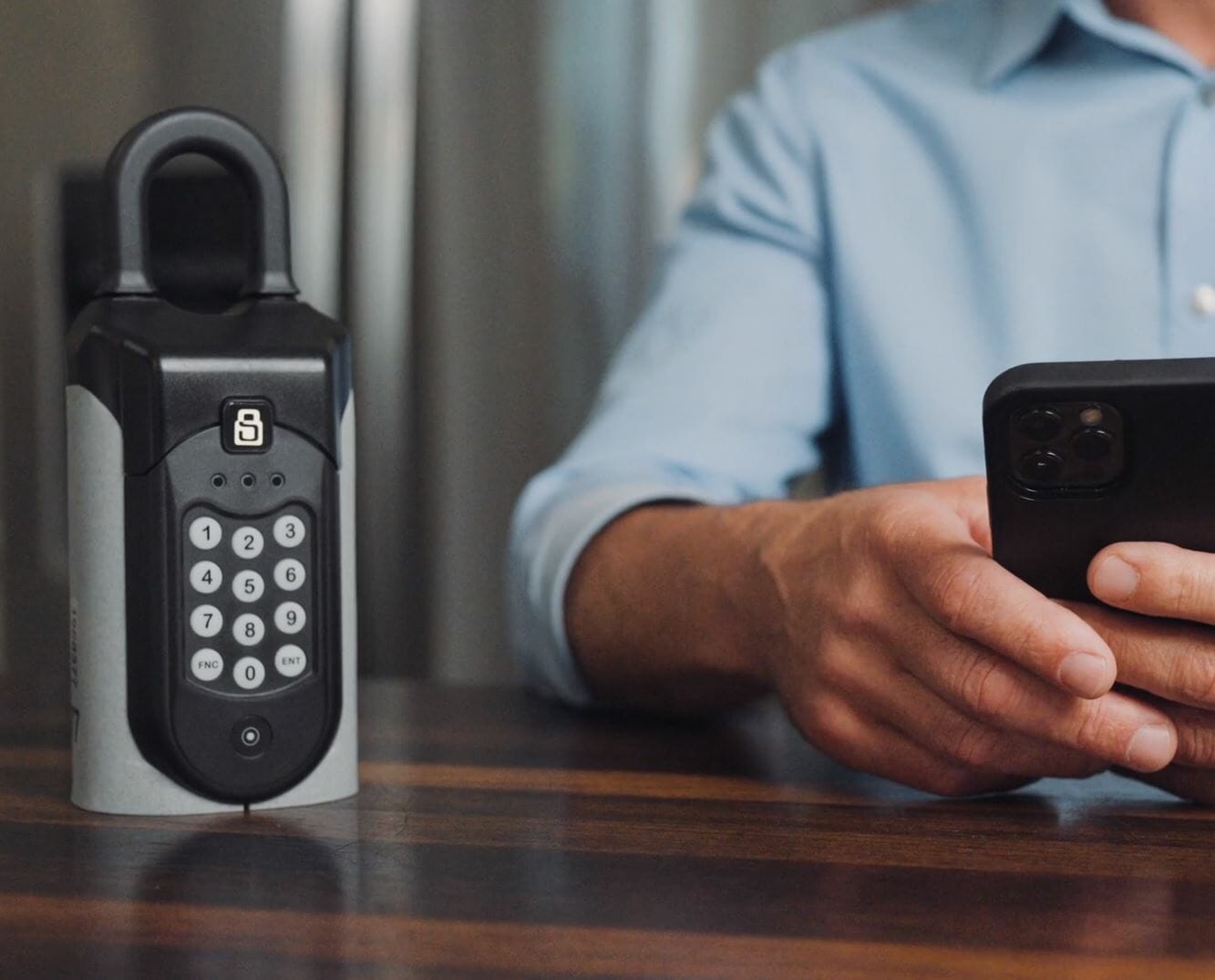 Why REALTORS® Love SentriLock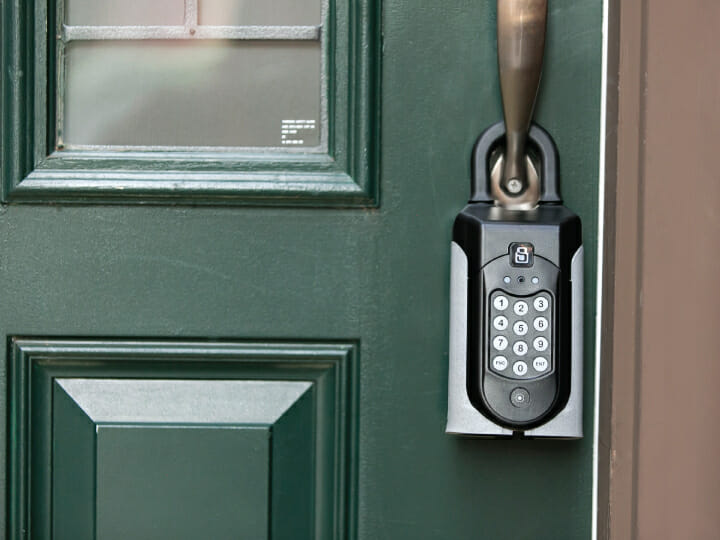 Fall in love with convenience and reliability
Didn't think you could love your real estate electronic lockbox? Think again. Engineered with a high-strength, corrosion-resistant steel vault and bolt cutter-resistant shackle, your SentriGuard® lockbox is built to last. With the longest battery life in the industry formulated to work up to 10 years, it's designed to be nearly maintenance free. And the smartphone app makes everything fast and easy.
Multiple lockbox access methods means you will never be left out cold on the porch again. Use the app or the keypad with secure codes to ensure access to your client's dream home and create perfect experiences.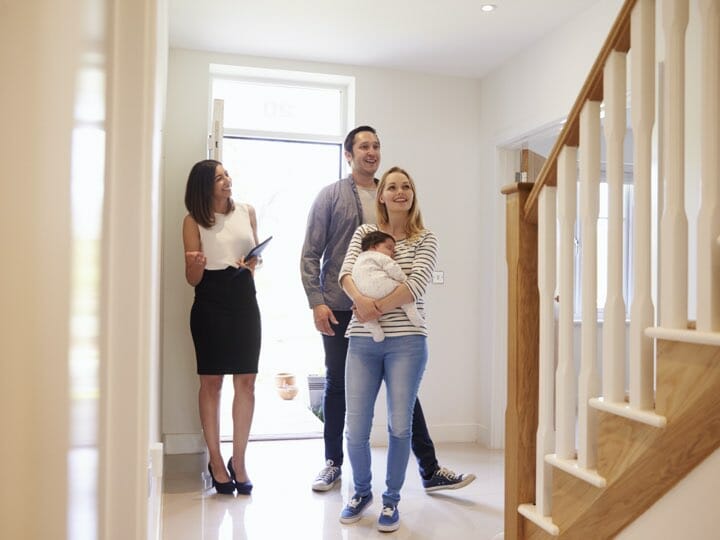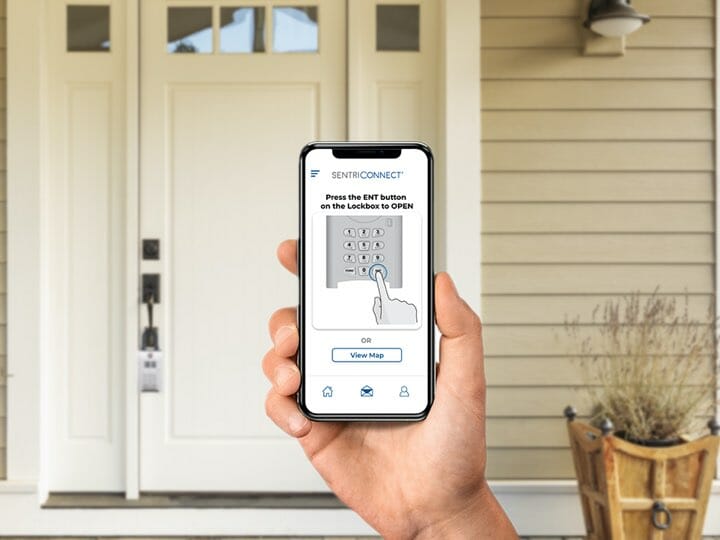 You decide who gets in the door and when
Got a contractor, painter, or third-party person who needs temporary access? No problem. Easily grant time-specific access through our SentriConnect® app or FlexCodes™ that provide revocable temporary access to anyone authorized. It's safe and convenient, allowing you to focus on selling – without the hassles.
Access by appointment? Check.
Looking for a lockbox that is smart enough to control access around showing schedules? Yeah, SentriLock has that, too. Easily set up appointment times to restrict when properties can be accessed. Unauthorized and untimely access are a thing of the past… and so is that nagging feeling that something unexpected could go wrong.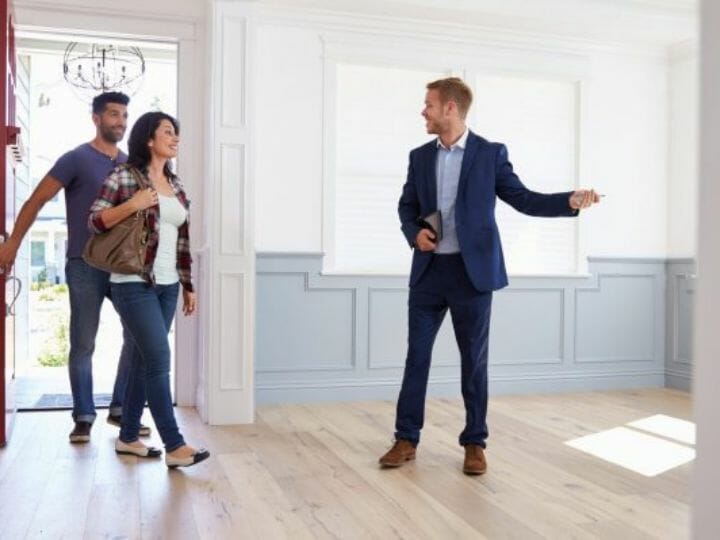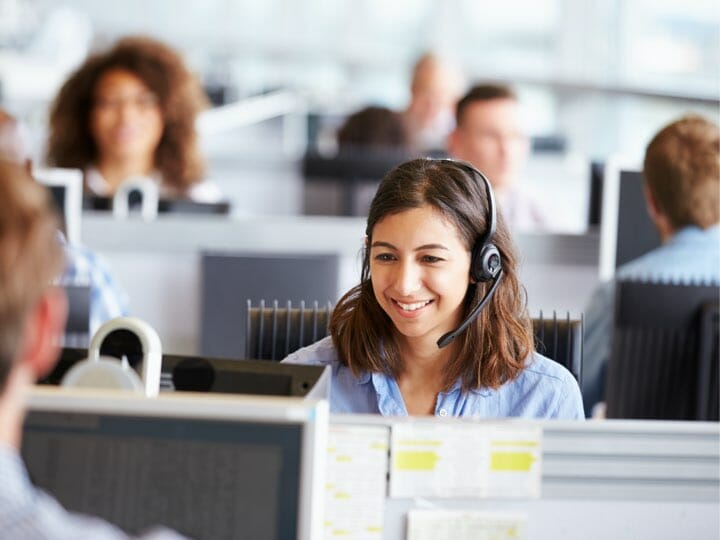 With SentriLock, you're backed by a US-based customer support team with an average 22-second call wait time and 96% customer satisfaction.
Rest easy, SentriLock is the real deal
SentriLock is the official electronic lockbox solution of the National Association of REALTORS® (NAR) – America's largest trade association representing over 1.4 million members. Their relationship with NAR provides an uncommon level of stability and assurance that their products, services, and support are here for the long haul.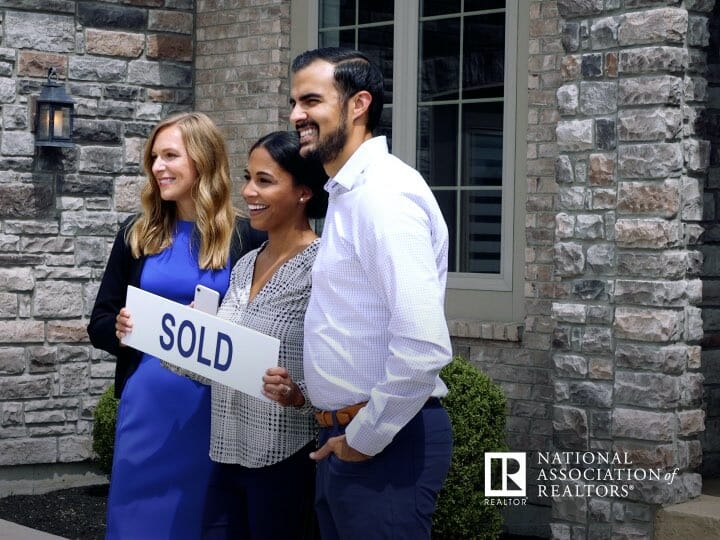 Key Features of the World's Smartest Electronic Lockbox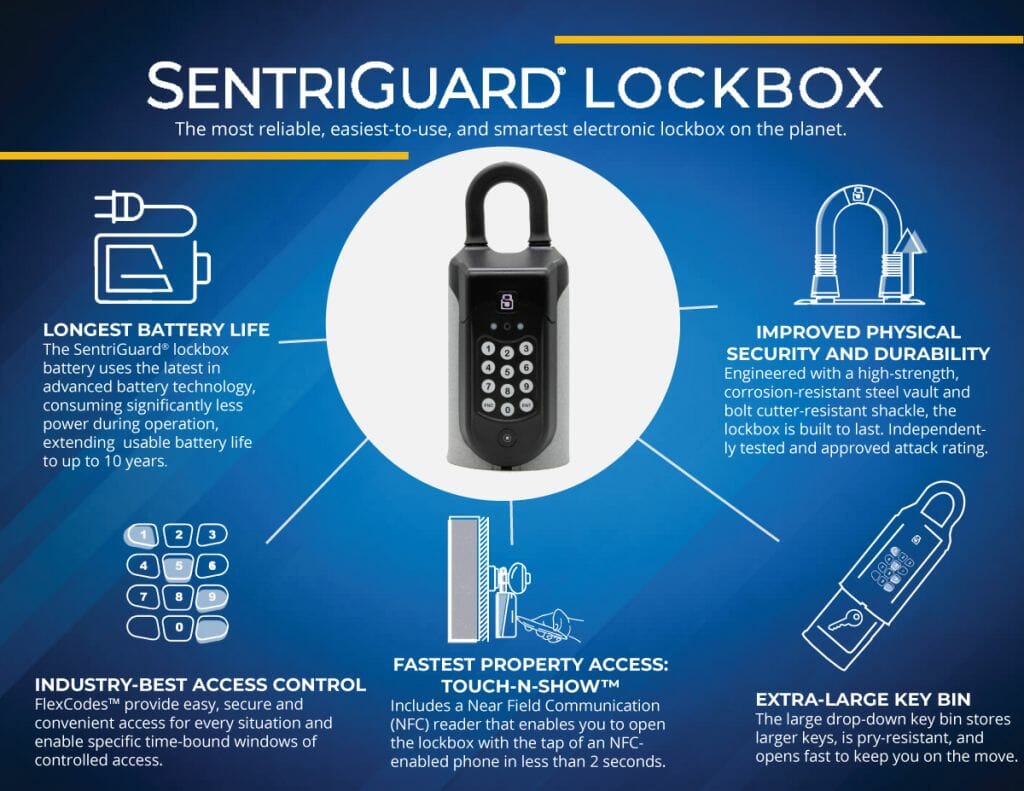 Extra-large key bin, tough construction to withstand assault, and fast operation to keep you on the move. Engineered using 20 years of customer needs and meticulous attention to detail. Designed to be the best electronic lockbox for you.
Designed to withstand just about anything – our lockbox has the highest security rating in the world. Independently tested and approved attack rating. Also, our agent safety feature protects REALTORS® by sending alerts to emergency contacts when activated.
Wouldn't it be cool if you could securely open a lockbox by tapping it with your phone? Yep, we can do that. Another industry first from SentriLock, the world leader in lockbox technology.
Access showing instructions and important property details right from your smartphone app. Have all the details at your fingertips so you can wow your clients. Best of all, we seamlessly integrate with your favorite MLS tools like Homesnap, RPR, and more.
Lockbox and Showing Service go together like peanut butter and chocolate. Why didn't anyone think of this before? Sentrilock is the only integrated solution that enables REALTORS® to spend more time selling, streamline their tech, and deliver unbelievable client experiences.
Give your clients peace of mind. Notifications are instantly sent when the lockbox is opened. This lets clients know when a showing has begun and also automatically provides notification when the showing is complete.
LONG-LASTING AND REPLACEABLE BATTERIES
Longest-lasting battery on the market, fully agent replaceable, and a built-in battery backup just-in-case. That's an industry-leading trifecta.
Manage and operate the lockbox and generate access codes right from your phone. Built to put power in your hands and support the on-the-go demands of REALTORS® with the fastest and most reliable Bluetooth® technology.